C'est finalement, à ma plus grande joie, Birdman qui sort grand vainqueur de ces Oscar 2015. Meilleur film, réalisateur, scénario original et photo. Julianne Moore est enfin sacrée. Tout comme Alexandre Desplat à sa 8è nomination. Une superbe soirée, emmenée avec brio et humour par un Neil Patrick Harris très en forme, où l'on voit que l'on peut faire passer un message fort (la condition des femmes, des noirs ou des homosexuels...) et de l'émotion dans des discours de remerciement très courts. Certains (beaucoup) devraient s'en inspirer...
F : mes favoris
G : gagnants probables
Soulignés ; les vainqueurs
Meilleur film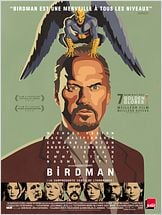 Boyhood G
Birdman F
The Imitation Game
The Grand Budapest Hotel
Selma
The Theory of Everything
Whiplash
American Sniper
Meilleur réalisateur
Richard Linklater – Boyhood G
Alejandro Gonzalez Inarritu – Birdman F
Wes Anderson – The Grand Budapest Hotel
Bennett Miller – Foxcatcher
Morten Tyldum – The Imitation Game
Meilleur acteur
Michael Keaton – Birdman F
Eddie Redmayne – The Theory of Everything G
Benedict Cumberbatch – The Imitation Game
Bradley Cooper – American Sniper
Steve Carell – Foxcatcher
Meilleure actrice
Julianne Moore – Still Alice F G
Reese Witherspoon – Wild
Rosamund Pike – Gone Girl
Felicity Jones – The Theory of Everything
Marion Cotillard – Deux jours, une nuit
Meilleur acteur dans un second rôle
JK Simmons – Whiplash F G
Edward Norton – Birdman
Ethan Hawke – Boyhood
Mark Ruffalo – Foxcatcher
Robert Duvall – The Judge
Meilleure actrice dans un second rôle
Patricia Arquette – Boyhood F G
Emma Stone – Birdman
Meryl Streep – Into the Woods
Keira Knightley – The Imitation Game
Laura Dern - Wild
Meilleur scénario original
Boyhood
Birdman F
The Grand Budapest Hotel G
Nightcrawler
Foxcatcher
Meilleur scénario adapté
The Imitation Game
American Sniper G
Inherent Vice
The Theory of Everything
Whiplash F
Meilleur film d'animation
Song of the sea
How to Train Your Dragon 2 F
Big Hero 6
The Boxtrolls G
The Tale of the Princess Kaguya
Meilleur documentaire
Citizenfour
Finding Vivian Maier G
Last Days in Vietnam
The salt of the Earth F
Virunga
Meilleur film en langue étrangère
Ida, Pologne G
Leviathan, Russie
Tangerines, Estonie
Timbuktu, Mauritanie F
Wild Tales, Argentine
Meilleure musique de film
The Grand Budapest Hotel - Alexandre Desplat F
The Imitation Game - Alexandre Desplat
Interstellar - Hans Zimmer
Mr. Turner - Gary Yershon
The Theory of Everything - Jóhann Jóhannsson G
Meilleure chanson originale
"Everything is awesome" du film "The Lego Movie" F G
"Glory" du film "Selma"
"Grateful" du film "Beyond the lights"
"I'm not gonna miss you" du film "Glen Campbell... I'll Be me"
"Lost stars" du film "Begin Again"
Meilleure photographie
Birdman F G
The Grand Budapest Hotel
Ida
Mr. Turner
Unbroken
Meilleur montage
American Sniper G
Boyhood
The Grand Budapest Hotel
The Imitation Game
Whiplash F
Meilleurs effets visuels
Captain America: le soldat de l'hiver
La planète des singes, l'affrontement
Les Gardiens de la Galaxie
Interstellar F G
X-Men: Days of future past
Meilleurs décors
Into The Woods
The Grand Budapest Hotel F G
Interstellar
The Imitation Game
Mr. Turner
Meilleurs costumes
The Grand Budapest Hotel - Milena Canonero F G
Inherent Vice - Mark Bridges
Into the Woods - Colleen Atwood
Maleficient - Anna B. Sheppard et Jane Clive
Mr. Turner - Jacqueline Durran
Meilleurs maquillage et coiffures
Foxcatcher - Bill Corso et Dennis Liddiard F G
The Grand Budapest Hotel - Frances Hannon et Mark Coulier
Guardians of the Galaxy - Elizabeth Yianni-Georgiou et David White
Meilleur son (montage)
American Sniper G
Birdman
The Hobbit: la bataille des cinq armées
Interstellar F
Unbroken
Meilleur son (mixage)
American Sniper G
Birdman
Interstellar F
Unbroken
Whiplash