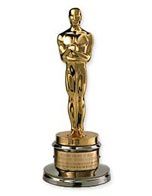 Palmarès quasi attendu. Slumdog Millionaire rafle la mise (8 oscars). Kate Winslet confirme. Sean Penn vole la vedette à Mickey Rourke. L'Oscar du film étranger va au Japon. La France repart bredouille et Benjamin Button n'a que 3 miettes techniques.

En rouge mes favoris >
En souligné les gagnants >

Les nominations :
Best motion picture of the year
"The Curious Case of Benjamin Button" (Paramount and Warner Bros.), A Kennedy/Marshall Production, Kathleen Kennedy, Frank Marshall and Ceán Chaffin, Producers
"Frost/Nixon" (Universal), A Universal Pictures, Imagine Entertainment and Working Title Production,Brian Grazer, Ron Howard and Eric Fellner, Producers
"Milk" (Focus Features), A Groundswell and Jinks/Cohen Company Production, Dan Jinks and Bruce Cohen, Producers
"The Reader" (The Weinstein Company), A Mirage Enterprises and Neunte Babelsberg Film GmbH Production, Nominees to be determined

"

Slumdog Millionaire

"

(Fox Searchlight), A Celador Films Production,Christian Colson, Producer
Pas de favori. Mais on voit mal Slumdog ne pas l'emporter.
Achievement in directing
Performance by an actor in a leading role
Performance by an actor in a supporting role
Performance by an actress in a leading role
Anne Hathaway in "Rachel Getting Married" (Sony Pictures Classics)
Angelina Jolie in "Changeling" (Universal)
Melissa Leo in "Frozen River" (Sony Pictures Classics)
Meryl Streep in "Doubt" (Miramax)
Kate Winslet in "The Reader" (The Weinstein Company)
Performance by an actress in a supporting role
Best animated feature film of the year
Achievement in art direction
"Changeling" (Universal), Art Direction: James J. Murakami, Set Decoration: Gary Fettis

"

The Curious Case of Benjamin Button

"

(Paramount and Warner Bros.), Art Direction: Donald Graham Burt, Set Decoration: Victor J. Zolfo
"The Dark Knight" (Warner Bros.), Art Direction: Nathan Crowley, Set Decoration: Peter Lando
"The Duchess" (Paramount Vantage, Pathé and BBC Films), Art Direction: Michael Carlin, Set Decoration: Rebecca Alleway
"Revolutionary Road" (DreamWorks, Distributed by Paramount Vantage), Art Direction: Kristi Zea, Set Decoration: Debra Schutt
Achievement in cinematography
"Changeling" (Universal), Tom Stern
"The Curious Case of Benjamin Button" (Paramount and Warner Bros.), Claudio Miranda
"The Dark Knight" (Warner Bros.), Wally Pfister
"The Reader" (The Weinstein Company), Chris Menges and Roger Deakins
"Slumdog Millionaire" (Fox Searchlight), Anthony Dod Mantle
Achievement in costume design
"Australia" (20th Century Fox), Catherine Martin
"The Curious Case of Benjamin Button" (Paramount and Warner Bros.), Jacqueline West

"

The Duchess

"

(Paramount Vantage, Pathé and BBC Films), Michael O'Connor
"Milk" (Focus Features), Danny Glicker
"Revolutionary Road" (DreamWorks, Distributed by Paramount Vantage), Albert Wolsky
Achievement in film editing
"The Curious Case of Benjamin Button" (Paramount and Warner Bros.), Kirk Baxter and Angus Wall
"The Dark Knight" (Warner Bros.), Lee Smith
"Frost/Nixon" (Universal), Mike Hill and Dan Hanley
"Milk" (Focus Features), Elliot Graham

"

Slumdog Millionaire

"

(Fox Searchlight), Chris Dickens
Best foreign language film of the year
"The Baader Meinhof Complex" A Constantin Film Production, Germany
"The Class" (Sony Pictures Classics), A Haut et Court Production, France
"Departures

"

(Regent Releasing), A Departures Film Partners Production, Japan
"Revanche" (Janus Films), A Prisma Film/Fernseh Production, Austria
"Waltz with Bashir" (Sony Pictures Classics), A Bridgit Folman Film Gang Production, Israel
Achievement in makeup
"

The Curious Case of Benjamin Button

"

(Paramount and Warner Bros.), Greg Cannom
"The Dark Knight" (Warner Bros.), John Caglione, Jr. and Conor O'Sullivan
"Hellboy II: The Golden Army" (Universal), Mike Elizalde and Thom Floutz
Achievement in music written for motion pictures (Original score)
"The Curious Case of Benjamin Button" (Paramount and Warner Bros.),Alexandre Desplat
"Defiance" (Paramount Vantage), James Newton Howard
"Milk" (Focus Features), Danny Elfman

"

Slumdog Millionaire

"

(Fox Searchlight), A.R. Rahman
"WALL-E" (Walt Disney), Thomas Newman
Achievement in music written for motion pictures (Original song)
Achievement in sound editing
"

The Dark Knight

"

(Warner Bros.), Richard King
"Iron Man" (Paramount and Marvel Entertainment), Frank Eulner and Christopher Boyes
"Slumdog Millionaire" (Fox Searchlight), Tom Sayers
"WALL-E" (Walt Disney), Ben Burtt and Matthew Wood
"Wanted" (Universal),Wylie Stateman
Achievement in sound mixing
"The Curious Case of Benjamin Button" (Paramount and Warner Bros.), David Parker, Michael Semanick, Ren Klyce and Mark Weingarten
"T

he Dark Knight

" (Warner Bros.), Lora Hirschberg, Gary Rizzo and Ed Novick

"

Slumdog Millionaire

"

(Fox Searchlight), Ian Tapp, Richard Pryke and Resul Pookutty
"WALL-E" (Walt Disney),Tom Myers, Michael Semanick and Ben Burtt
"Wanted" (Universal), Chris Jenkins, Frank A. Montaño and Petr Forejt
Achievement in visual effects
"

The Curious Case of Benjamin Button

"

(Paramount and Warner Bros.), Eric Barba, Steve Preeg, Burt Dalton and Craig Barron
"The Dark Knight" (Warner Bros.), Nick Davis, Chris Corbould, Tim Webber and Paul Franklin
"Iron Man" (Paramount and Marvel Entertainment), John Nelson, Ben Snow, Dan Sudick and Shane Mahan
Adapted screenplay
"The Curious Case of Benjamin Button" (Paramount and Warner Bros.), Screenplay by Eric Roth, Screen story by Eric Roth and Robin Swicord
"Doubt" (Miramax), Written by John Patrick Shanley
"Frost/Nixon" (Universal), Screenplay by Peter Morgan
"The Reader" (The Weinstein Company), Screenplay by David Hare

"

Slumdog Millionaire

"

(Fox Searchlight), Screenplay by Simon Beaufoy
Original screenplay
"Frozen River" (Sony Pictures Classics), Written by Courtney Hunt
"Happy-Go-Lucky" (Miramax), Written by Mike Leigh
"In Bruges" (Focus Features), Written by Martin McDonagh

"

Milk

"

(Focus Features), Written by Dustin Lance Black
"WALL-E" (Walt Disney), Screenplay by Andrew Stanton, Jim Reardon, Original story by Andrew Stanton, Pete Docter